Nashville Motorcycle Accident Attorney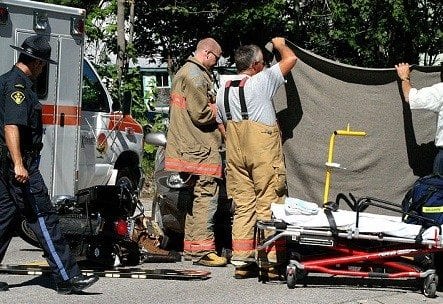 Trust Only A Credible Motorcycle Lawyer. A motorcycle accident is complicated, challenging, and often fiercely debated when it comes to liability.
The truth is most motorcycle riders are as careful as any other vehicle. They may even tend to be more cautious because a motorcycle offers much less protection for the rider than a car or van. Statistics have shown that motorcycle drivers are 28 times more likely to die and 6 times more likely to get injured in an accident.
If you are involved in a motorcycle accident, our Nashville motorcycle accident lawyer will help you set a plan in motion towards a fast and full recovery. We conduct extensive investigations to figure out the best course of action for you. We will use only the most qualified experts in accident reconstruction to determine who is at fault. Our Nashville law firm will employ the most competent medical professionals to prove your case in court and get you the compensation that you deserve.
Premier Nashville Motorcycle Accident Attorney
Motorcycle Accidents: Causes and Types
Motorcycles do not provide the same level of protection that a car does. Under the law, motorcycle drivers are required to wear all available safety equipment such as helmets and protective eye gear. Motorcycles, on the other hand, should have safety equipment such as handlebars and footrests. When a motorcycle crash happens, however, riders still get injured despite having all of these safety measures in place. Injuries tend to be more severe because bikers are exposed to the direct impact of the road and other vehicles.
The most common causes of motorcycle accidents include:
Unsafe lane changes and failure to check a blind spot before turning.
Lane splitting, or driving between two lanes of traffic
Right-of-way errors and miscalculations of distance while turning left
Car doors suddenly opening.
Sudden stops and tailgating.
Dangerous road conditions such as crumbling pavement and potholes
Motorcycle defects
The most common types of motorcycle accidents include:
Single-motorcycle accidents – motorcycles are prone to skidding, tipping, or sliding, and reasons for these may vary.
Head-on collisions – motorcycles getting hit by other vehicles head-on will usually be fatal to the driver.
Rear-end collisions – tailgating or following too closely can result in a vehicle hitting a motorcycle from behind.
What Should Motorcycle Accident Victims Do?
Important steps should be taken should you get involved in a motorcycle accident. These steps are crucial in proving who or what caused the accident and establishing the extent of your injuries.
First of all, seek medical attention. Even if you feel your injuries are minor, have a medical professional assess your physical state. Some accident injuries do not manifest until several hours or even days after the actual accident.
Record contact information. If you can, write down the contact information of everyone involved in the accident, even bystanders. Information such as names, phone numbers, addresses, license plate numbers, and vehicle registration numbers are indispensable for your injury claims later on.
Call the police. Any accident resulting in injuries requires police intervention. A police report is a vital source of information.
Take photos and videos of the accident scene. Write down everything you remember from what happened while it is still fresh in your mind. Focus on the timeline of what happened, how it happened, and where and when it happened. Take precise notes of the road, traffic, and weather conditions as well. Preserve any piece of physical evidence as best as you can.
Lastly, seek help from experienced accident lawyers. Our Nashville motorcycle accident attorney can ease the burden of securing evidence, establishing a strong claim, and proving your need for just compensation. We will work for you so you can focus on recovering from your injuries, whether physical or emotional.
 Most Recent Motorcycle Injury Statistics According to the NHTSA
In states without universal helmet laws, 59%of motorcyclists killed were not wearing a helmet, compared to 8% in states with universal helmet laws.
In 2013, 4,668 motorcyclists were killed, while an estimated 88,000 were injured.
Motorcyclist deaths occurred 26 times more frequently when compared to car passenger deaths.
Motorcycle drivers killed in accidents at night were 4 times more likely driving under the influence of alcohol than during the day.
In 2013, estimates showed that helmets saved 1,630 motorcyclists' lives.
Motorcyclist deaths accounted for the highest percentage of alcohol-impaired drivers than any other type of vehicle – 27% for motorcycles, 23% for passenger cars, 21% for light trucks, and 2% for large trucks.
Tennessee and most other states have enacted universal helmet laws. The Helmet Law states that all motorcycle drivers and their passengers must wear a safety-approved helmet at all times. It does not guarantee, however, that the helmet lets the driver walk away unscathed from an accident. It does give added protection for the face, skull, brain, and neck plus a shield from debris, road rash, and scars. Wearing a helmet also shows the respect and sense of responsibility a motorcyclist has for the other drivers and people that they share the road with.
What Our Nashville Motorcycle Accident Lawyer Can Do For You
In the wake of a motorcycle accident, you are no doubt facing a challenging journey, making a lot of difficult decisions. Major points of concern include injuries requiring medical attention and its financial burden, property damage, lost income, and emotional trauma. Recovering from these can take a significant amount of time and specialized care. Our attorneys are here to help you recover the maximum amount of compensation that the Tennessee law permits and to seek justice for your suffering and pain. Our Nashville accident lawyers will bring you the professionalism, responsiveness, and commitment our law firm has always been known for. We care about you! Call us today and schedule an appointment with one of our Tennessee motorcycle crash attorneys.