Important Child Car Seat Information and How to Spot Ollie Otter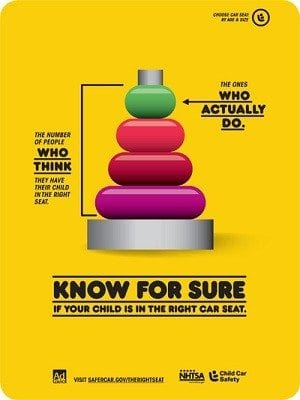 Stillman and Friedland are here to serve you in case you need our help, but we would prefer that our fellow Tennesseans avoid preventable injuries.  Today, we have a message we hope everyone takes to heart.
Child Passenger Safety Week begins on September 18, 2016.  Local, state, and federal authorities —- including here in Tennessee, are putting car seat safety in the spotlight.  Using the correct seat can make a difference between life and death for young children.  We all know that using seat belts saves adult lives —- according to the Tennessee Highway Safety Office:
"More than 50% of vehicle occupants killed in crashes in Tennessee were not wearing seatbelts."
Passenger restraints for kids are even more crucial because their lower body weight means they are much more easily thrown on impact.  For children ages 1 to 13, motor vehicle crashes are a leading cause of death.
Here is another key point: If your child's restraint device is not the right one for his or her weight and height, it may be ineffective. Many Tennesseans are currently using an inappropriate restraint for their child.
How do you know that you are using the correct seat for your child? You can check the criteria we list below, or you can attend the upcoming seat check-up event sponsored by the Nashville Metropolitan Police Department on Saturday, September 24, 2016 from 9:00 a.m. until noon. The event will be held at Babies R Us, 2205 Gallatin Pike, in Nashville.
If you live elsewhere in Tennessee, click here for a location near you. If you would like to follow Ollie Otter's child safety tips or find out if he can appear at your child's school, check out Ollie's Facebook page!
Here is a brief digest of child safety restraint guidelines:
Rear-Facing Car Seat
Birth – 12 Months
Only use a rear-facing car seat under one year. Use the rear-facing car seat until your baby reaches the height or weight limit your car seat's is made to handle. Check the instructions on the seat or manufacturer's website information for your model.
Forward-Facing Car Seat
1 – 3 Years
A forward-facing seat is the next step—make sure it is properly installed. Some models are easier to use—keep this in mind, because when you are dealing with a squirming toddler, simpler is better. There are many resources that will help you get the best features for ease and safety.
Booster Seat
4 – 7 Years
Only when your child outgrows the car seat should you move on to a booster seat. Keep your child in the back seat where it's still much safer. Airbags can be dangerous so back seat is still best.
Seat Belt
8 – 12 Years
Again, use the previous device as long as the child still fits correctly in it. Remember, a "properly-fitting lap belt lies snugly across the upper thighs, not the stomach. The shoulder belt should lie snugly across the shoulder and chest and not cross the neck or face. Again, the back seat is the best and safest option for kids!
And always remember to be conscientious not only about the kids' safety restraints but yours as well. You are your kids' best role model, and when you always buckle up, you are teaching them a lesson for life!
We are here for you — because we care about our community.