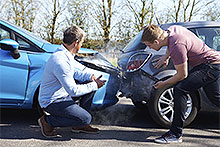 With the new healthcare bill (Patient Protection and Affordable Care Act ) set to be implemented soon, it is clear that health insurance is not readily available and affordable to everyone.
If you are injured in a collision with another driver, in a car accident, or a truck collision, you may be hurt and find out you can't even get medical treatment! This is actually more common than any of us want to believe.
Since this is reality for many of us, what can we do about it? If you are hurt, if you cannot work, and no Dr. will treat your injuries because you don't have insurance, you will be put in a very difficult position.
As a law firm that specializes in personal injury cases, we see this all of the time. This is exactly what the insurance companies want — for you to be in a desperate position where you cannot get treatment, and therefore cannot prove your injuries. If you cannot prove injuries, you will not be able to recover for those injuries. In this scenario, the insurance company wins and you lose.
So what can you do?
Call Stillman and Friedland. We can refer you to medical specialists ready and willing to provide the best treatment available and you only pay when we settle your case. These are doctors who care and more importantly, doctors who are not concerned with just making a buck. They really want to make a difference and help people in need.
With the help of these doctors, we at Stillman and Friedland can assure that you'll get the treatment you need and the compensation you deserve for your injuries and suffering.
Don't despair if you think you don't have options — you do have choices.
Call us today at 615-244-2111. We are here for you and we have the medical and legal resources to help you.
Stillman and Friedland — attorneys you can trust!