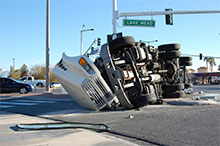 At Stillman & Friedland, we have sued many trucking companies for injuries caused by negligent drivers on Tennessee roads and highways.
Why are accidents involving trucking companies different from other injury cases on the road? This is a question that must be asked, and one you should know the answer to.
Because we have experience in trucking litigation, we have studied the rules, regulations and federal and state laws regarding trucking litigation. These guidelines are constantly updated by federal and state agencies to assure your protection from these speeding tons of steel.
Trucking companies typically involve both the owners of the rigs and the operators. Many times, these are two separate entities and they both have very high safety standards they must follow. Failure to meet these standards is the basis of a successful recovery for injuries caused by collisions with trucks, anywhere on the roads in Tennessee.
The regulations are vast and demanding, and most trucking companies cannot, or do not, adhere to these requirements. These can range from the maximum amount of hours a driver can be on the road, the minimum number of rest stops, keeping proper logs of all activities, maintenance of all trucks, supervision of hiring, the background of drivers, and many more detailed rules.
Your attorneys must know all of these and must discover all documents and logs from the defendants. They must depose as many individuals as deemed necessary to uncover non-compliance with any of these rules and regulations.
In summary, it's not enough to prove a collision, negligence and injuries – your accident case against any trucking company has much more value than these simple facts. Proving violation of the many special rules regulating truckers will greatly enhance and assure the best compensation for anyone involved in a collision with a truck, tractor trailer, semi-truck, or 18-wheeler.
Lastly, and more alarming, is a trick employed by some trucking companies which involves operating under different company names and appearing as small operators, when in fact, the owners are the same and the combined assets are much greater than the small entities disclose.
It's a challenge piercing this veil of protection of assets and something that takes many hours of investigation. We have even encountered cases where the liability insurance has lapsed, cancelled, and not renewed! This is a challenge and you need the best attorneys to deal with it.
When you need experience, knowledge, and sheer determination, call our office. We serve all of Tennessee and are headquartered in Nashville. For over 30 years, we have litigated on behalf of injured plaintiffs.
Jay Stillman
Personal Injury Attorney
Stillman & Friedland