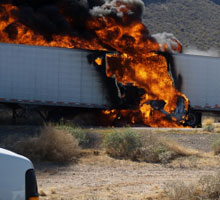 At Stillman & Friedland Law Firm, our attorneys have seen a lot of truck accident cases during our 30+ years of representing injured clients in Tennessee.
I personally have seen many tractor trailer truck cases, and I can tell you from experience that no two accidents or injuries are the same.  Each client and each collision has details which determine how the case must be handled to maximize its value to you, and to maximize your recovery from the trauma.
"Beware of trucking companies who try to evade responsibility by being 'small'. They try to protect their assets, and sometimes don't even have the required insurance! We can find them, and we can cut through the tricks!"
With truck collisions, this is especially important. Often, we see a case where a truck driver tries to pass on the interstate at high speed, and clips the left rear of the car in front of him as he is passing.  The results are often catastrophic.
The impact to the car in front sends it spinning out of control, crossing lanes of traffic and ending up on either side of the interstate. The truck usually locks into a "jackknife" position, flipping over on its side, often 50 or 100 yards down the road. This creates the risk of a second impact between the truck and the car, as both are sliding out of control all over the road.
In an especially harrowing scenario, the fuel tank of the truck can rupture, fuel will pour out, and—God forbid—it may even ignite! If rescue personnel are not nearby, the driver may be lucky to get out of the vehicle in time.
If you and your passengers are witnesses to a scene like this, the exposure to the horrendous trauma will be an experience no one forgets for a long time, if ever.
Often, the victims need therapy to work out the trauma of what they saw and felt, the screams and sounds of screeching metal, and the stench of burning fuel, plastics, and rubber.
We hope you never have to experience the anguish of a tractor trailer truck accident. Our clients who have been through this nightmare look to us not only for professional legal services, but for support and guidance in getting past the event. We make sure they get all the help they need, both physical and emotional, to try to return to the lives which were stolen from them in a flash. Resolution can take years, but we are there with them, as much after settlement as before.
Our job is more than just applying the law—we have always focused on service, and service is personal. It is one-on-one, person-to-person. That's why Stillman & Friedland is a team, like friends or family, and we all work for the same purpose, to serve you fully! When you call us, you speak to the attorney who understands what you need, and to the assistant who cares about you, and whose job it is to help you. No matter whom you talk to, you will know this as soon as you call, as soon as you contact us.
At Stillman & Friedland, we serve you, the person, not a file number with a price tag attached to it. To our firm, and everyone in it, it's all about the client. We want every one of our clients to get everything they need to return to a meaningful and productive life. We often see that clients find more meaning in life, because often suffering teaches, and builds us in ways we never imagined it could.
No one wants to suffer, and at Stillman & Friedland we use all our resources, all our knowledge, all our experience, to help you, both financially and emotionally.
We know money alone cannot make you whole, but financial security, and psychological growth, can bring you to levels of enjoyment of life you never experienced before.
This is our goal, because we aim high. When we strive for great results, we usually achieve them! That's why we are the team you need when you are really hurt, and need help like never before…
That's why we are here for you!
Call me anytime.
Jay Stillman
Attorney Stillman & Friedland