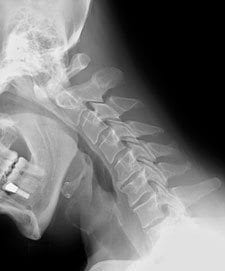 Many of our Stillman and Friedland clients suffer from neck injuries. Trauma is a leading cause for neck injuries, and anyone who suffers an impact from a car or truck accident is vulnerable to neck injury.
As we pointed out in our previous post on head injuries, the best actions you can take are:
Have an immediate assessment after the injury, and
Wait to see what the long-term effects are before settling with the insurance company.
While many injuries resolve quickly, some may take time to manifest or may manifest in ways that you yourself may not attribute to neck trauma. In this post, we will give you a head start on resolving these injury-related issues for neck trauma.
Most of us are familiar with the term "whiplash", which describes the rapid forward, backward or rotating motion of the head and neck. However, there are a number of specific injuries that can occur to the neck during a traumatic injury, and identifying them correctly and treating them appropriately are essential to your physical and financial recovery. The type of injury you have varies depending on the direction of motion following the impact. Proper diagnosis is crucial, and if you suspect neck trauma, you need to see a specialist, and describe how the impact occurred. If your PCP simply lists your problem as "whiplash" without detailing the specific impact, your case is likely to appear to the insurance company or jury as a false claim.
An injury to the neck can impact your spinal cord. About 50% of all spinal cord injuries (SCIs) are caused by accidents. Two forms of SCI are spinal concussion which is very common in the neck area, and bruising. These injuries usually pass, but if you have had neck trauma it is important to report it and get checked. Because the spinal cord may be affected in neck injury, a key clue may be a change in sensation in the arms, either a tingling or loss of sensation and even weakness. Your doctor will refer to this as cervical radiculopathy. In some cases this may even affect your sensation down to your hands and fingers.
In cases of neck trauma, other symptoms may include:
Neck pain and possible swelling which develop 12-24 hours after the accident and gets worse, becoming most severe 24-48 hours post-impact.
Neck pain with reduced range of motion. Possible accompanying lower back pain.
Headache and dizziness, occasionally vertigo and nausea.
Your orthopedist or a chiropractor should be able to pinpoint the causal factor of your symptoms, usually by having a set of at least 3 x-rays showing your neck from different angles. Injuries such as facet joint dislocation should be visible in these images. If x-rays do not show the effects of impact and the source of your pain, your doctor may request that you have a CT or MRI to get a better look at soft tissues which may be affected. Soft tissue injuries to the neck include herniated discs and other issues. These advanced scans are often your best bet for diagnosis if you are still suffering but preliminary imaging does not show a site of injury.
Because we care, we do want to point out that if your doctor has you on heavy-duty opiate pain medications for the long term, you are very possibly not resolving the physical issues which are causing pain and at risk for addiction issues. Please remember that it is important to do your part and follow through on your therapy and maintain an open line of communication with your doctor, or find someone else who listens to you.
Your recovery depends on you as well as your doctors. Lifestyle and diet are very important factors for recovery from injuries. Review our blog posts on health and recovery for the latest up-to-date research and information, without bias.
Finally, after therapy and time have had time to work, only then can you, your medical professional and your legal professional assess the level of damage you have suffered. As your legal professionals, we bring you the benefit of our many years of experience. We are always here to listen to you and assist in maximizing your financial recovery.
Because we care…
Jay Stillman
Stillman & Friedland Attorneys