* This is the first post in a series of informative and informational articles for Tennessee drivers and passengers.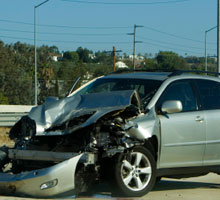 In the many years of representing injured clients in automobile and truck accidents, I have seen certain recurring scenarios that create serious problems for proving liability. One of these is the common "chain collision" involving 3 or more vehicles, each colliding into the rear of the one in the front.
Unfortunately, insurance companies will contest these cases anyway they can. In the chain collision scenario, it is very common to argue that you, the client, struck the car in front of you before you were struck in the rear! It is not easy to disprove this defense, because when struck in the rear, you are often forced into the car in front of you. Proving which impact occurred first, can often be a challenge.
Do not despair, we know how to deal with this situation. Often visual proof, photos, and witnesses, can dispel this argument. There are other ways to prove your case as well.
You do not want to discuss any details with any insurance company, you must talk to an attorney experienced in these cases. Anything you say at the scene, or anytime thereafter, will be used against you.
You need professional advice as soon after the collision as possible. Until then, be very careful what you say and keep the information in this post in mind — it can make the difference in winning your case.
For more information about this and many other common issues involving accidents, call or email me anytime.
Jay Stillman
jay@jstillman.com
1-800-967-2246
Accident Attorney, Nashville and Tennessee