Better Treatment for Auto Accident Injuries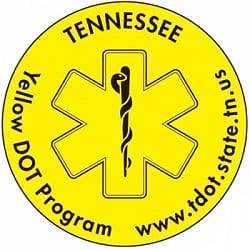 Stillman and Friedland are pleased to help the State of Tennessee help you in the event of an accident. Tennessee's new Yellow Dot program is designed to give accident victims a better fighting chance in the event of serious injury in a road accident. We highly recommend that anyone with medical issues and special needs participate in this helpful voluntary program. If you yourself take medications due to a medical condition, or are physically vulnerable due to prior injuries, we strongly suggest that you participate in the Yellow Dot program. The Tennessee Department of Transportation (TDOT) is initially targeting seniors, and hoping that most of Tennessee's 1.5 million senior motorists will use the program.
How does it work? Bring along a recent photo to one of TDOT's enrollment centers. There are eleven centers in the Davidson County area listed here. If you do not have a photo, you can have one taken at the enrollment center. At the center you will be given a simple kit which includes a medical questionnaire, a bright yellow plastic folder and a vehicle sticker suitable for either a car or motorcycle. Complete the questionnaire with all your current information regarding your state of health and medications, as well as any previous injury or surgical information as indicated on the form. Attach your photo to the form, and place it in the bright yellow folder and put it in your glove compartment. Next, affix the sticker on your vehicle. That is all that is required.
What we love about this system is that it provides life-saving information to first responders in an easily accessible manner. As the above video points out, this information can be crucial during the first hour after a traumatic injury. If you are taking blood-thinning medication or blood pressure medication, for example, your information will be key to the way paramedics and the emergency room will treat you.
• Please note that is also important to keep the information up to date. We further suggest that you may add in clearly printed information (such as a list of medications) from your physician with your identifying Social Security number and other codes cut off the sheet.
• Have a separate Yellow Dot folder for your spouse or frequent passenger.
In addition, the Yellow Dot form also allows you to add in your next-of-kin or other choice of persons to contact in the event of an emergency. If you are injured, this ensures that you will have someone for support as soon as possible.
What we especially like is that this is a simple, common-sense method of enhancing your personal safety. None of your personal data is fed into an online system, exposing your personal information to data hackers. TDOT also stresses that you should not add your Social Security data to the form—it is strictly for medical and contact information. The Yellow Dot sticker will alert first response personnel that your data is available and accessible, giving the best chance for the proper treatment in the essential first hour post-trauma.
If you are a senior, why not use this valuable safety enhancement? If you have senior parents, and they are not familiar with the Yellow Dot program, why not help them to get registered? If you are one of the many Tennesseans with diabetes and are taking medications, it is well worth your while to participate in Yellow Dot. Other persons, such as cancer survivors should definitely participate, as their blood vessels may have been compromised due to chemotherapy.
Stillman and Friedland cannot recommend this state initiative highly enough. Give yourself a fighting chance when you help first responders do the right thing when you need it most.
Because we care…