Stillman and Friedland are here to help you out in case you have an accident on the road, but before we step in, the Tennessee Department of Transportation and Highway Patrol are your first line of defense on our State highways. Today we are highlighting just a few of the many things TDOT and the THP do for Tennesseans every day.
1. Busting distracted drivers in a novel way: from the elevated view THP gets in its "big rig".
We have written numerous posts about the dangers of driving on the road with large trucks, but this truck is only a problem for distracted drivers! THP has a big rig which they confiscated from drug dealers several years ago, and had the idea to use that elevated cab to see who is texting on the road. From the truck's raised viewpoint it is easy to look down and see who is texting while driving—even if it is done below the window level. Who would have known that so many members of the THP are licensed truck drivers? Texting and driving is a dangerous habit, and we salute the THP for cracking down on careless drivers.
2. HELP Program for roadside emergency assistance for commuters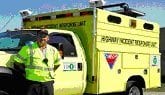 Photo Credit: TDOT
The THP runs the HELP program to aid vehicles in high traffic zones, putting patrols where and when they are most needed. Please remember that they are emergency vehicles, and you must yield to them, as you would for a regular ambulance. In Nashville the HELP vehicles patrol in the following areas during the morning rush hour, and as needed in special circumstances, at your service:
• I-24, west of Nashville, Exit 43 to Downtown
• I-24, east of Nashville, Downtown to Exit 57
• I-40, west of Nashville, Exit 201 to Downtown
• I-40, east of Nashville, Downtown to Exit 219
• I-65, south of Nashville, Exit 78 to Downtown
• I-65, north of Nashville, Downtown to Exit 90
Includes I-440, and, as needed:
Ellington Pkwy (SR-6) and Briley Pkwy (SR-155)
3. Map your Route
Last but not least, is your Tennessee State map old and out of date, or in poor condition? Keep up with the latest road improvements with a free copy of the 2016 TDOT map! The map features the entire state, plus a highway guide to our four major cities. Order it for free by using this link to fill out the convenient online form. You can order up to five copies for friends and family or even more for your organization. TDOT also has city and county maps available as PDFs on the website if you need more detail.
From Stillman and Friedland attorneys — because we care!