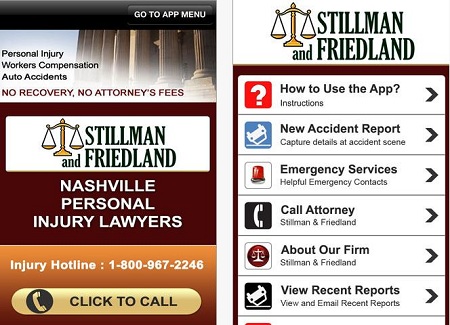 At Stillman and Friedland, we are constantly using technology to work for you and your safety and always stay on the cutting edge of the latest technological advancements. Therefore, we are proud to announce the release of a new state-of-the-art smart phone app that can be installed from the following link, free of charge, directly from iTunes.
The accident app also is available for Android phones and works with most major phone manufacturers, including Samsung, LG, Nokia, Lenovo, Toshiba, and many more.
Our auto accident app places all the information you need for you or your loved ones at the touch of a button in the event you are involved in a car accident. We will locate the nearest emergency rooms closest to you, police department, and other emergency services.
Our app operates the functions of your phone that you need at that moment, which include the camera for photos, video, witness recording, as well as immediate connection to our website and all of our social media tools. Most importantly, we provide direct calling to our office for our attorneys who are on call 24/7. You can even email all of this information to us in real time. The app will safely store all of this information on your phone.
Our new app is for you, your family, and your loved ones and puts the full services of middle Tennessee police and emergency facilities at your fingertips. The app also places our attorneys and the full support of our law firm at your service anytime, day or night!
In these high tech times, you need added protection at your service. Go ahead and download this app now free of charge, at the following links:
As always, we are proud to continue to serve you and your legal needs.
Jay Stillman
Stillman and Friedland Attorneys